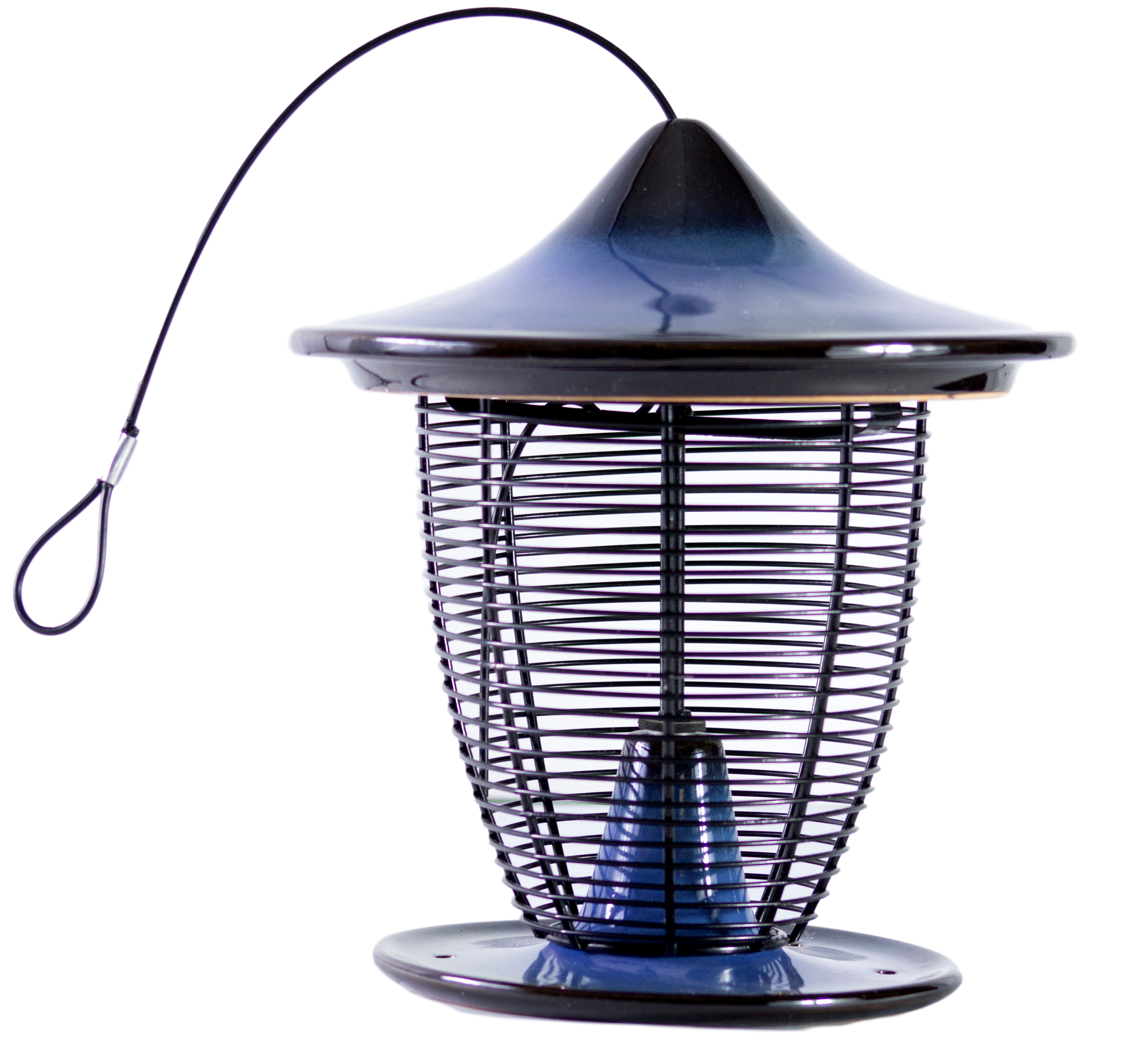 Byer Of Maine Pagoda Bird Feeder
Description

The Byer of Maine Alcyon Pagoda Bird Feeder provides an innovative twist on a classic design. It adds flair to your garden while feeding your favorite songbirds and deterring pests like squirrels and Jays. Sturdy and attractive, this feeder combines stoneware and wire for a unique look. The wire spacing is just wide enough to accommodate small beaks, and too narrow for larger beaks and little paws to comfortably raid the seed. The stoneware base is wide enough for comfortable perching. The matching sloped top pops off for easy refill with smaller seed, like Black Oil Sunflower. Hanging is easy and versatile. The hand-forged steel hanger that comes with the feeder can be hung from a tree, or screwed into a flat surface. At 4 pounds unfilled it may be a bit heavier than most feeders, but it's still lightweight enough that your hanging options aren't limited.

Give small beaked songbirds a place to eat in peace with our Pagoda Bird Feeder. The wire spacing of the body is sized to work best with Black Oil Sunflower seed. Also, the spacing is too narrow for larger birds like Jays and squirrels to raid the feeder comfortably.
The top and base are made from heavy duty stoneware finished with a glossy glaze in one of two colors: cobalt blue or sandy granite. The sloping top is easy to remove for refilling and cleaning. The base is just wide enough for your favorite songbirds to perch. Drainage holes have been inserted in order to prevent seed from mouldering in the feeder.
It's easy to refill this feeder. Just remove the top, pour in new seed, and pop the top back in place. Cleaning is minimal, and no tricky maneuvering with a collapsable body.
Each Pagoda bird feeder comes with an attractive hand-forged steel hanging hook. The hook can be screwed into a flat surface, like an outside wall, or hung from a tree branch, making it easy for you to place wherever you want in your garden.
This feeder is 9"x9"x10" and 4lbs unfilled. Small and lightweight, it can be hung just about anywhere.
Shipping & Returns


We have you covered! Pay no shipping or handling cost when shipping to USA (Including Freight Under 200lb) when you order from Outsiders Living (Excludes: HI & AK). No Sales Tax! (Excludes: MI).


Shipping times range between 1 - 4 Weeks, depending on the brand and quantity purchased. Contact us via email and we will give you an exact time frame on when you can expect to receive your order.


Once your order is placed, you will receive a confirmation email that contains the order summary and tracking information. We will update you via email, as soon as the order ships out, so you can track your package the entire way.


Returns are easy. Contact us if your order was damaged or defected upon receiving, and we will work together to get it resolved the same week. So you can get your money back, or a new order shipped out as soon as possible!
Who We Are


Here at Outsiders Living, we want to provide customers with the easiest and most transparent shopping experience possible. From order to delivery. We understand how tricky it can be ordering online, especially when it's expensive or heavy!


If you have any questions, feel free to contact us during business hours and we will get back to you the same day, That's our guarantee! We take pride in our reliable customer service, and being trusted in providing the best brands at the best prices, for all of your outdoor home needs.


Whether it's creating your dream backyard, having a bomb fire with your friends and family, or even mowing the lawn. We have what you need to reclaim the great outdoors and spend a little more time outside living.

Shopping with Outsiders Living is 100% safe and secure. We are SSL Certified, practicing industry-standard security protocols. Ensuring your personal and credit card information is never shared. Providing privacy, authenticity, and integrity shopping online with us.