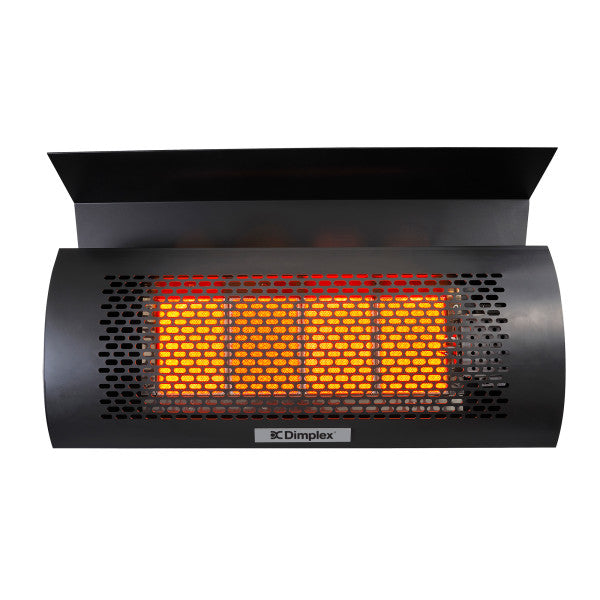 Dimplex Outdoor Infared Portable Heater Head DGR32PLP Gas Wall Mounted
Description

DGR Series- Dimplex Outdoor Infared Portable Heater Wall Mounted


Sleek and powerful, our Outdoor Infrared Heaters can enhance any patio space instantly to give you heat on demand. The stylish black DGR model is a luxury upgrade in outdoor spaces with a natural gas line installation and permanent wall mount. Made of durable stainless steel and equipped with a high-performance ceramic burner that can deliver up to 31,500 BTUs per hour. Extend your living space into your backyard all year round.

X-DGR32PLP-HEAD - Head Portable LPG Gas RAD HTR 32k BTU

Features


Perfect Fit - Extend your outdoor living and dining season year round—patios, balconies, gazebos, common areas, restaurants.
Powerful Heating - Commercial grade 4-tile ceramic burner produces 31,500 BTUs of heat.
Flexible Installation Options - Wall mount using the included bracket and select your desired angle, or suspend from the ceiling— direct heat where it is needed.
Heat on Demand - Warm outdoor commercial and residential areas up to 172.2 sq. ft. (16 m2) with just one heater.
Innovative Design - No electricity or hard wiring required, works independently with a natural gas line.
Superior Construction  - Constructed of 430 stainless steel and coated with a high temperature paint, the DGR offers world-class wind protection up to 9 mph (16 km/hr.).
Advanced Safety - Protective grille and reflector contain flames and keep the surrounding surfaces cool.
Simple Operation - Electronic finger pull makes for safe.

Shipping & Returns


We have you covered! Pay no shipping or handling cost when shipping to USA (Including Freight Under 200lb) when you order from Outsiders Living (Excludes: HI & AK). No Sales Tax! (Excludes: MI).


Shipping times range between 1 - 4 Weeks, depending on the brand and quantity purchased. Contact us via email and we will give you an exact time frame on when you can expect to receive your order.


Once your order is placed, you will receive a confirmation email that contains the order summary and tracking information. We will update you via email, as soon as the order ships out, so you can track your package the entire way.


Returns are easy. Contact us if your order was damaged or defected upon receiving, and we will work together to get it resolved the same week. So you can get your money back, or a new order shipped out as soon as possible!
Who We Are


Here at Outsiders Living, we want to provide customers with the easiest and most transparent shopping experience possible. From order to delivery. We understand how tricky it can be ordering online, especially when it's expensive or heavy!


If you have any questions, feel free to contact us during business hours and we will get back to you the same day, That's our guarantee! We take pride in our reliable customer service, and being trusted in providing the best brands at the best prices, for all of your outdoor home needs.


Whether it's creating your dream backyard, having a bomb fire with your friends and family, or even mowing the lawn. We have what you need to reclaim the great outdoors and spend a little more time outside living.

Shopping with Outsiders Living is 100% safe and secure. We are SSL Certified, practicing industry-standard security protocols. Ensuring your personal and credit card information is never shared. Providing privacy, authenticity, and integrity shopping online with us.