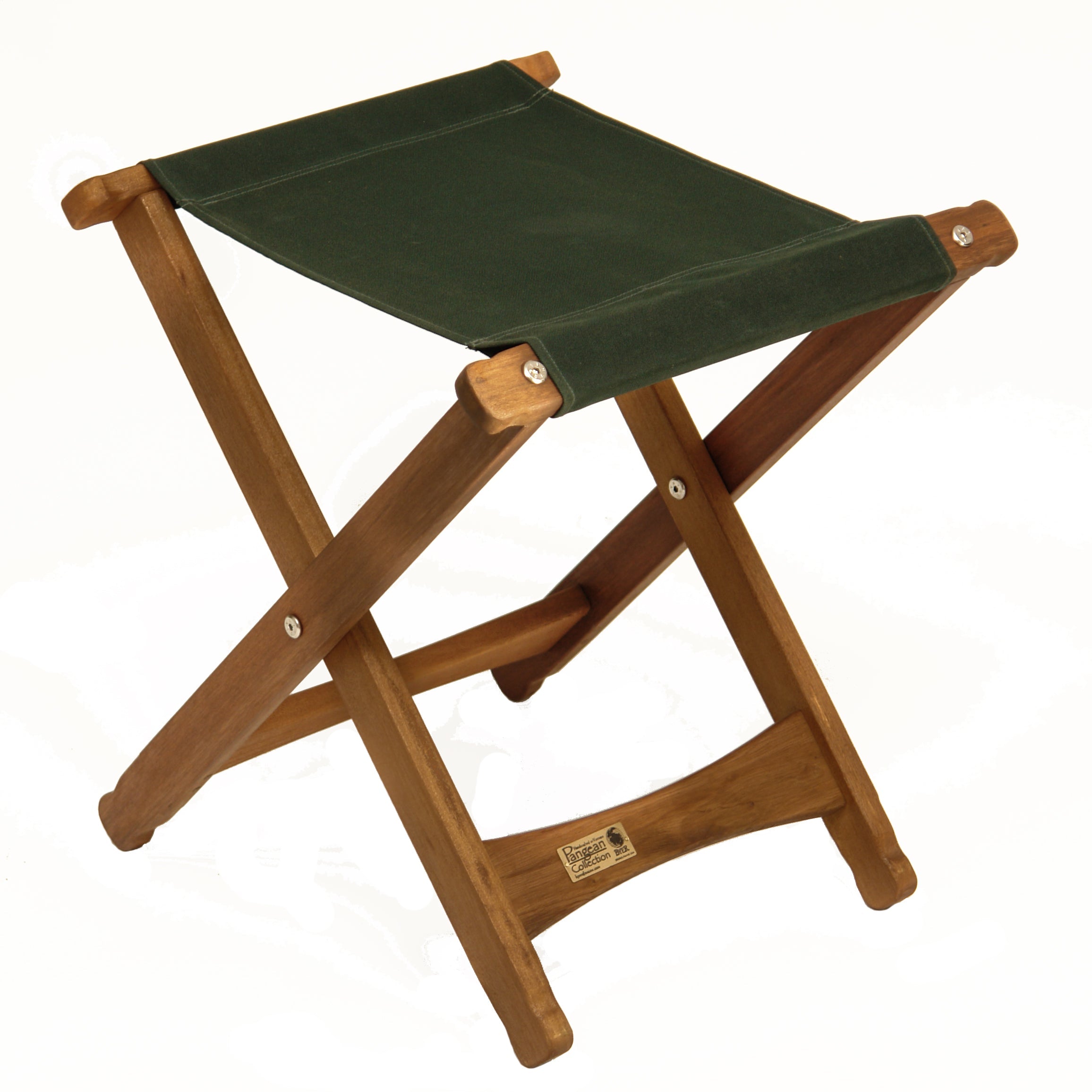 Byer Of Maine Pangean Folding Stool
Description

Pangean Folding Stool

The Pangean Folding Stool continues a long tradition of comfortable, durable wooden camp stools from Byer of Maine.

Made from keruing hardwood with a rich oil finish, the simple Pangean folding stool will provide you with a sturdy, reliable place to sit no matter where you need it. This stool does require some assembly, but it is easy and intuitive, and we have included all necessary hardware. Included is a straight allen key to be used in a drill to make it even easier. The stool is light enough and designed to make it easy to fold up and transport wherever you need a place to sit, or store flat and tuck out of the way when you do not. The seat of the stool is made from 100 percent heavy weight polyester canvas (duck) in an attractive dark green that will resist mildew and mold. The stool is crafted using mortise and tenon construction for superior durability. Today we produce these in a small factory in Vietnam with a long established reputation for quality. This stool measures 16"D x 18"W x 18"H, weighs 6lbs and holds up to 225lbs. 

Simple, sturdy and attractive, this folding canvas stool is great for the person who is always on the go. At only 6lbs, it's easy to take with you as a place to sit while camping, watching a ball game, as a footstool with your favorite Pangean Campaign Chair, or even as a side table to hold a birding book or your binoculars.
Canvas Stool - Crafted from renewable hardwood Keruing wood, it has been dipped in oil for an extra protective finish and covered with an attractive heavy-duty dark green or natural polyester canvas.
Sturdy and durable, this wooden folding stool is perfect for the outdoors, but it can be used indoors, as well. The warm mid-range stain can match most furniture, and it's ideal for casual socializing with guests.
As part of Byer of Maine's Pangean line, this wood camp stool will match any of the chairs and tables from the same collection
Dimensions are 16"D x 18"W x 18"H, Product weight is 6lbs, and holds up to 225lbs. Ships partially assembled.



Shipping & Returns


We have you covered! Pay no shipping or handling cost when shipping to USA (Including Freight Under 200lb) when you order from Outsiders Living (Excludes: HI & AK). No Sales Tax! (Excludes: MI).


Shipping times range between 1 - 4 Weeks, depending on the brand and quantity purchased. We will give you an exact time frame on when you can expect to receive your order upon ordering.


Once your order is placed, you will receive a confirmation email that contains the order summary and tracking information. We will update you via email, as soon as the order ships out, so you can track your package the entire way.


Returns are easy. Contact us if your order was damaged or defected upon receiving, and we will work together to get it resolved the same week. So you can get your money back, or a new order shipped out as soon as possible!
Who We Are


Here at Outsiders Living, we want to provide customers with the easiest and most transparent shopping experience possible. From order to delivery. We understand how tricky it can be ordering online, especially when it's expensive or heavy!


If you have any questions, feel free to contact us during business hours and we will get back to you the same day, That's our guarantee! We take pride in our reliable customer service, and being trusted in providing the best brands at the best prices, for all of your outdoor home needs.


Whether it's creating your dream backyard, having a bomb fire with your friends and family, or even mowing the lawn. We have what you need to reclaim the great outdoors and spend a little more time outside living.

Shopping with Outsiders Living is 100% safe and secure. We are SSL Certified, practicing industry-standard security protocols. Ensuring your personal and credit card information is never shared. Providing privacy, authenticity, and integrity shopping online with us.