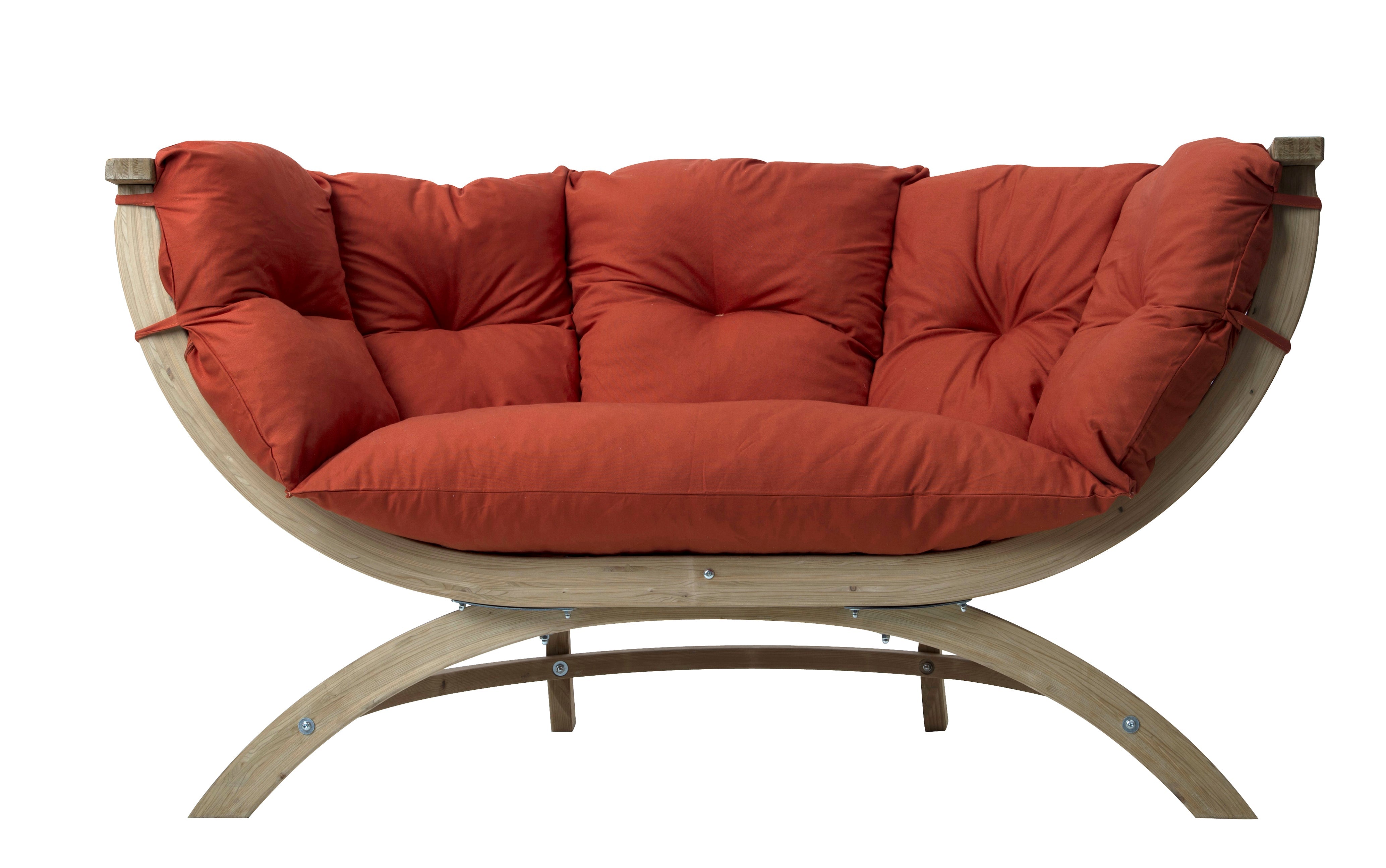 Byer Of Maine Siena DUE Chair
Description

Siena DUE Chair

The combination of unique design and superior quality make this beautiful chair for two a beautiful addition to your home or cottage. Multiple heavy duty layers of laminated, weatherproofed spruce wood guarantee maximum stability and strength. The Sienna Due features a big soft cushion lined with a weather-resistant Agora fabric cover. This chair is perfect for use both inside and outside, which makes it a real cozy place to spend an afternoon with a friend.

Make the elegant Globo Sienna Due Double chair with cushion the centerpiece of your indoor or outdoor living and entertaining space. This outdoor patio chair is made from multiple layers of weatherproofed spruce wood. The cushions are covered with an Agora fabric.
Indoors or out. The wood is treated for outdoor use and we recommend treating it with a penetrating oil finish once or twice a year depending on how extreme your outdoor elements are. If used indoors, you'll never have to worry about treating the wood.
The Agora fabric that covers the cushion is also ideal for indoors or out. It is designed to protect against all outdoor conditions from the sun and moisture. Water damage, stains, U/V rays, etc. Water Resistant, Weather Resistant. But it is also as soft as cotton so use inside your living space or bedroom is a comfortable fit.
To make things easier, this porch chair comes partially assembled. The big round cushion chair works both indoors and out. Inside your bedroom or out on your porch. It can hold up to 440lbs. This oval weather proof garden chair is big designed two people.
Dimensions are 70"W x 37"H x 26"D. Room for one person to spread out and big enough for two as a cozy chair in the bedroom 


Colors: Green, Natural, Taupe or Terracotta.    

Shipping & Returns


We have you covered! Pay no shipping or handling cost when shipping to USA (Including Freight Under 200lb) when you order from Outsiders Living (Excludes: HI & AK). No Sales Tax! (Excludes: MI).


Shipping times range between 1 - 4 Weeks, depending on the brand and quantity purchased. Contact us via email and we will give you an exact time frame on when you can expect to receive your order.


Once your order is placed, you will receive a confirmation email that contains the order summary and tracking information. We will update you via email, as soon as the order ships out, so you can track your package the entire way.


Returns are easy. Contact us if your order was damaged or defected upon receiving, and we will work together to get it resolved the same week. So you can get your money back, or a new order shipped out as soon as possible!
Who We Are


Here at Outsiders Living, we want to provide customers with the easiest and most transparent shopping experience possible. From order to delivery. We understand how tricky it can be ordering online, especially when it's expensive or heavy!


If you have any questions, feel free to contact us during business hours and we will get back to you the same day, That's our guarantee! We take pride in our reliable customer service, and being trusted in providing the best brands at the best prices, for all of your outdoor home needs.


Whether it's creating your dream backyard, having a bomb fire with your friends and family, or even mowing the lawn. We have what you need to reclaim the great outdoors and spend a little more time outside living.

Shopping with Outsiders Living is 100% safe and secure. We are SSL Certified, practicing industry-standard security protocols. Ensuring your personal and credit card information is never shared. Providing privacy, authenticity, and integrity shopping online with us.