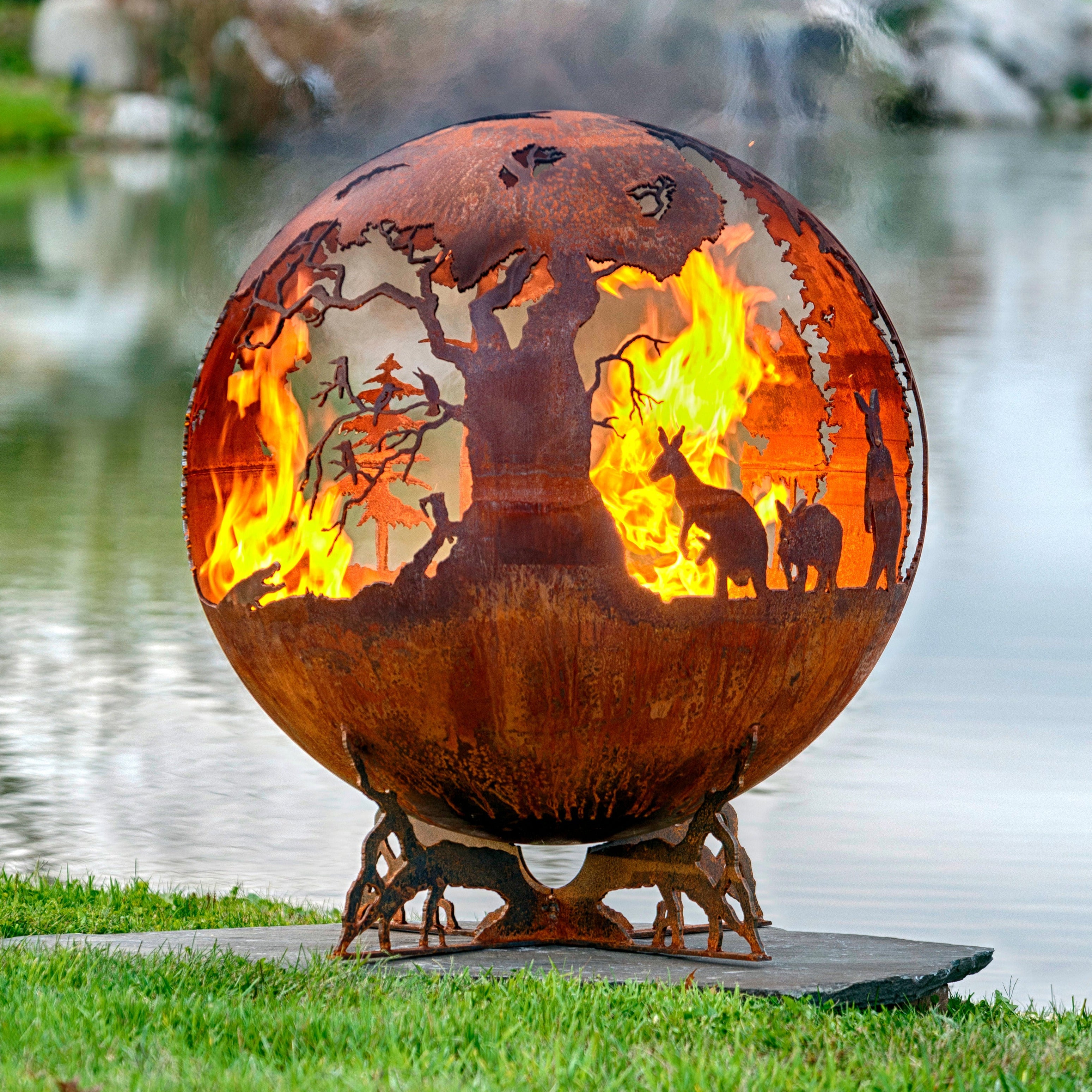 The Fire Pit Gallery Down Under Australia Fire Pit Sphere
Description

Down Under Australia Fire Pit Sphere

This Australia fire pit sphere features kangaroos, kookaburra birds, a crocodile and a small koala. The globe shaped sphere sits above a craggy tree branch base. Sculptural fire bowls by Melissa Crisp.

Wood burning fire pit made in the USA with American made steel, features a rust patina finish and has a rain drain at the bottom. This fire pit comes in two sizes, 37″ and 41″ in diameter and offers you a choice of two different bases. It also has a Lifetime Warranty and free shipping in the continental USA.

Our custom fire pits are unique functional works of art designed by artist Melissa Crisp. Each fire pit is hand cut and has a numbered metal plate to assure that each fire pit is completely unique.

Custom Made
1/4″ Thick American Made Steel
Choose Diameter

37″ Diameter Option
41″ Diameter Option

47″ Tall
220 lbs. (approximately)

Choose Bases

Craggy Tree Branch Base
Flat Steel Base

Designed by Artist
Numbered Art
Rust Patina (Iron Oxide) Finish
Rain Drain
Wood Burning
Can be converted to gas (kit not included)
Lifetime Warranty *

* Bowl is guaranteed to not rust through in your lifetime.

** Minimum lead time: 8-10 business weeks

30 inch and larger fire pits will ship by common carrier to the lower 48 states.



Shipping & Returns


We have you covered! Pay no shipping or handling cost when shipping to USA (Including Freight) when you order from Outsiders Living (Excludes: HI & AK). No Sales Tax! (Excludes: MI).


Shipping times range between 1 - 4 Weeks, depending on the brand and quantity purchased. Contact us via email and we will give you an exact time frame on when you can expect to receive your order.


Once your order is placed, you will receive a confirmation email that contains the order summary and tracking information. We will update you via email, as soon as the order ships out, so you can track your package the entire way.


Returns are easy. Contact us if your order was damaged or defected upon receiving, and we will work together to get it resolved the same week. So you can get your money back, or a new order shipped out as soon as possible!
Who We Are


Here at Outsiders Living, we want to provide customers with the easiest and most transparent shopping experience possible. From order to delivery. We understand how tricky it can be ordering online, especially when it's expensive or heavy!


If you have any questions, feel free to contact us during business hours and we will get back to you the same day, That's our guarantee! We take pride in our reliable customer service, and being trusted in providing the best brands at the best prices, for all of your outdoor home needs.


Whether it's creating your dream backyard, having a bomb fire with your friends and family, or even mowing the lawn. We have what you need to reclaim the great outdoors and spend a little more time outside living.

Shopping with Outsiders Living is 100% safe and secure. We are SSL Certified, practicing industry-standard security protocols. Ensuring your personal and credit card information is never shared. Providing privacy, authenticity, and integrity shopping online with us.